-Back to the Nature-
Project Name: Back to the Nature – Erasmus+
Project Dates: 14st- 22nd of August 2016
Project Location: Örkelljunga, Sweden
Project Type: Youth Exchange
Project Participants: Turkey, Sweden, Italy, Portugal and France
Faal Association took part in youth exchange Project in Sweden. During the all programme, All participants had a great experiences about nature.
First activity day was generally about name games and group dynamics. We played ice-breaking games. Also, we talked about our expactations, offers and fears. At night we had responsible for Turkish intercultural night. FAAL introduce our cuisine such as mantı, baklava, Beypazarı kurusu, nuts, olive, Turkish fairy floss, Turkish delight, Turkish coffee, Konya şekeri, cezerye and  our traditional dances such as damat halayı, zeybek and kolbastı and Turkish music,too.
Second day, all partners made a presentation about their associations.  In addition to this, we learned "What is Erasmus+" Our facilitators give details about EVS. Then, we played creative game about "what is culture?" with crisis manegement and without prejudice. Besides, our facilitators gave an advice about healty lifestyle. After that, participants took a video about healthy lifestyle. And that night was the Portuguese intercultural night. They asked many questions about their culture, music and country. We tasted their traditional foods and dance all the night.
17th of August, All participants joined an amazing mission: Task Orienteed City Tour. After that, participants had an ability to survive on bad situations. Further, we learned how to make a fire. Afterwards, every group made their preparations for the evening game in the forest. And the most exiting game in the nature that night : Capture the Flag. It was extremely wonderful and enjoyable moment of this project for many participants.
Next day, participants clean the nature, sports hall, workshop room and the lakeside. Later, all groups went into the forest and did the "animal capturing" (photo) activity. Afterwards, according to the Erasmus+ Project style, we did learning by doing activity. All participants had a chance for outdoor activities such as fishing, canoeing, swimming, hiking, biking or indoor activities like playing cards or playing table tennis or basketball. That night was our host Sweden's night. They introduce their music, artists, foods and dances.
19th of August, we had a very significant issue about nature. It was enviromental issues. All participants discussed about it and then, they seperated into groups for performing solutions with their body language.  After this workshop, we went to Helsingborg for trip. It was a gorgeous time for all of us. At that night, French team introduce their foods, dances and music. They prepared quiz about known French streotypes by other nations.
20th of August, All participants duty was making a film for Oscar night. This film was about the nature. In the afternoon, we had a great game named Olympic Games. It was totally amazing experience.
In the 21st of August, we tried to build bridges between the associations and participants for future collaboration. During this activity all participants wrote a Project about their title. Then, time was for the evaluation. Firstly, we wrote messages one by one to each other. After, we evaluated Back to the Nature Project. We talked about our ideas and emotions. And fort he final step was the Oscar Night. All of the participants dressed like Hollywood actresses and actors. During the night, we watched our movies. Oscar Jury, chose the best movies. Finally, we played our last game. After that we took our Youthpass certificates and we learned our secret friends.
During this week, we had great experiences, fascinating memories and wonderful friendships. Thanks to all participants and special thanks to  IFALL, Associação Spin, Shokkin Group Italia, EuroCircle 🙂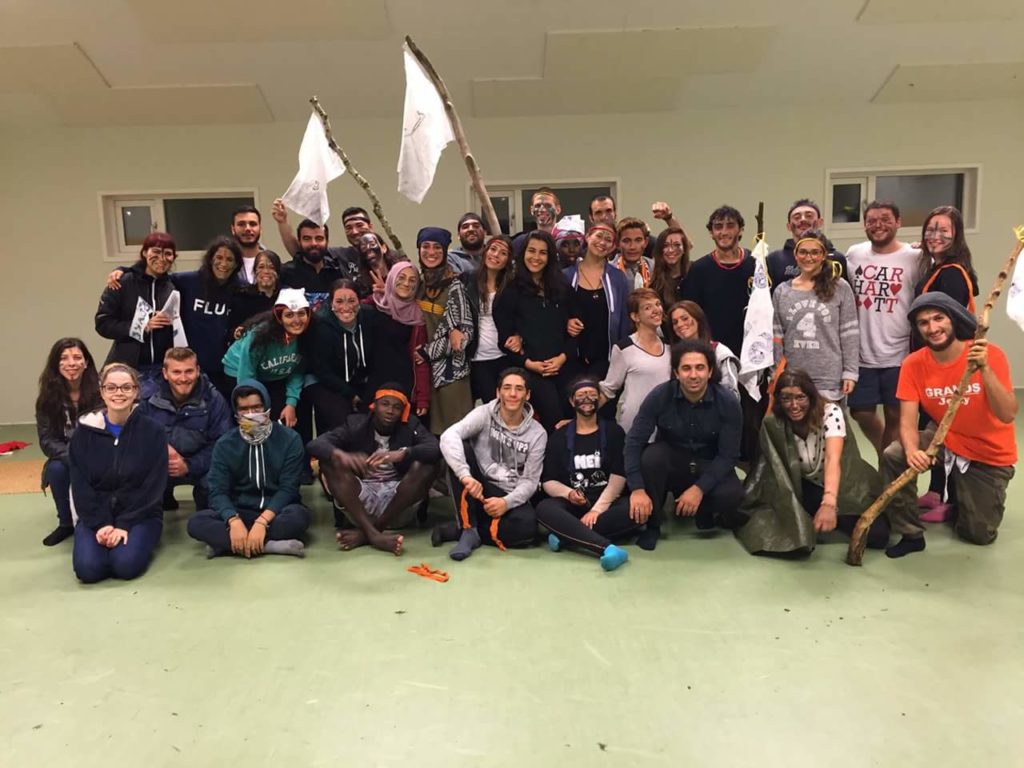 Projenin Adı: Back to the Nature
Proje Tarihi: 14-22 Ağustos 2016
Projenin Yapıldığı Yer: İsveç – Örkelljunga
Proje Tipi: Gençlik Değişimi
Proje Katılımcıları: Türkiye,İsveç,İtalya,Portekiz,Fransa
FAAL Derneğinin de yeraldığı İsveçte düzenlenen bir Gençlik Değişimi projesi.Projede yer alan tüm eğitimler doğa ile ilgiliydi
Birinci gün genel olarak isim oyunları ve grup dinamiği yer aldı.Beklentiler,teklifler ve endişeler hakkında konuşuldu.Bu gece Türkiye'nin kültür gecesi idi. Biz ülke olarak onlara; mantı,baklava,Beypazarı kurusu, fıstık, karışık kuruyemiş, Konya şekeri, cezerye, zeytin, çekirdek, kağıt helva, lokum, bayram şekeri ve Türk Kahvesi ikram ettik.Bizim yöresel danslarımızı gösterdik; damat halayı, zeybek, kolbastı, Ankara oyun havası vb.
İkinci gün bütün katılımcılar dernekleri hakkında bilgi verdi. Orada EVS yapan katılımcılar 'Erasmus+ nedir?'ile ilgili bilgi verdi. Sonrasında bizler tasarlanan bir oyunla 'kültür nedir?' sorusuna cevap aradık. Ayrıca sağlıklı yaşam hakkında bilgiler edinip gruplar halinde konuyla ilgili bir video hazırladık. Bu gece Portekiz'in kültür gecesiydi. Bizlere kendi kültürleri, ülkeleri, müzikleri ile ilgili bir çok soru sordular. Portekiz'in geleneksel yiyecekleri ve danslarını tanıttılar.
Üçüncü gün bütün katılımcılar verilen görevleri gerçekleştirerek şehir turu yaptılar. Sonrasında hayatta kalma ve kötü durumlarla baş etme becerilerini geliştiren eğitimler aldılar. Ayrıca ateş yakmayı öğrendiler. Sonrasında,akşam ormandaki oyun için hazırlık yaptı. O geceki oyun en heyecan verici oyundu: Bayrak Yakalama. Oyun son derece harika ve heyecanlıydı. Katılan herkes hep hatırlayacak.
Dördüncü gün katılımcılar doğayı, spor salonunu ve gölün etrafını temizlediler. Sonrasında,bütün gruplar ormanda hayvan fotoğrafı çektiler. Bundan sonra tüm katılımcılar ister içerde ister dışarıda ki aktivitelere katıldılar. Balık tutma, yüzme, kano, bisiklet sürme, basketbol, voleybol, tenis kart oyunları, alışveriş gibi.Bu geceye ise İsveç ev sahipliği yaptı. Kültürel müzikler,danslar ve yemekler tanıtıldı.
Sonraki gün çevresel sorunlar konuşuldu. Bu sorunlar not edildi. Her grup üç adet kelime seçti ve bunu bedenlerini kullanarak fotoğraf kareleri şeklinde anlattı. Sonra Helsinborg şehrine gidildi. Harika zaman geçirdik. Bu akşam Fransız akşamıydı. Fransız yiyecekleri,müzikleri ve dansları tanıtıldı. Bizlere Fransa ile ilgili kalıplaşmış bilgilerin olduğu ufak bir sınav yapıldı.
Altıncı günde gruplar Oscar gecesi için konusu doğa olan film çekti. Çekim ve montaj işleri tamamlandıktan sonra grup oyunları şeklinde yarışmalar yapıldı. Katılımcılar eğlenceli ve keyifli dakikalar geçirdi.
Ve son gün. Diğer katılımcılarla ve derneklerle gelecekteki işbirlikleri için güzel köprüler kurduk. Gruplar oluşturup uygulanabilir proje taslakları hazırladık. Sonrasında projenin değerlendirmesini yaptık. Proje hakkındaki düşüncelerimizi ve duygularımızı ifade ettik.
Projenin finalini ise Oscar gecesi ile yaptık.Yapılan filmleri hep beraber izledik. Oscar jürisi en iyi filmi seçti. Hep beraber son oyunumuzu oynadık. Sertifikaları aldık ve gizli arkadaşlarımızı öğrendik.
Son olarak bu hafta boyunca harika zaman geçirdik ve çok güzel arkadaşlıklar kazandık. Bütün katılımcılara ve özellikle İFALL,SPİN ASSOCİATİON,SHOKKIN GROUP ITALIA ve EUROCIRCLE'ye teşekkür ederiz.